Forêt
Franck Vigroux / Compagnies d'Autres Cordes
Forêt is an internal, dreamlike journey, a sensory and poetic opera. Franck Vigroux creates an organic world without any reference to time, where fragments of past and future civilisations communicate with one another. Forêt is a sensitive epic in the form of a journey.
INTERNATIONAL MEETING IN PERFORMING ARTS AND CREATIVE TECHNOLOGIES
From November 7 to December 4, 2021, 
the fifth edition of the IMPACT Forum


The IMPACT Forum aims to encourage exchanges between the arts, sciences and technologies sectors. Over the years, the IMPACT Forum has consistently surprised us, by immersing us in the unimaginable possibilities that the future holds.
This fifth edition is bolstered by support from the Rayonnement Wallonie grant, an initiative from the Walloon government managed by ST'ART SA. It will take place in Liège and Hasselt, with shows and performances from France, Ireland, Spain, Mexico, the Netherlands and, of course, Belgium.
Conception/music Franck Vigroux
Danse Azusa Takeuchi
Production Cie D'autres Cordes
Coproduction et soutiens Biennale Nemo le 104, Théâtre de Mende, MAC de Créteil, Théâtre de Nîmes, Césaré CNCM, La Muse en Circuit CNCM,
Avec le soutien de Spedidam, Adami, Sacem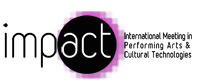 Practical
‹
September 2023
›
Mon
Tue
Wed
Thu
Fri
Sat
Sun
28
29
30
31
1
2
3
4
5
6
7
8
9
10
11
12
13
14
15
16
17
18
19
20
21
22
23
24
25
26
27
28
29
30
1
Plein tarif

15 €

65ans+/Carte prof/Groupe10+

15 €

-30ans/Pro/Dem.d'emploi

9 €

Groupe scolaire

8 €

-15ans

7 €

Etudiants Conservatoires Art de la parole

5 €
Book