PicnicUrbain
Place du 20 Août is pedestrianised for the occasion.
Now a traditional back-to-school celebration, the urban picnic by Théâtre de Liège celebrates its 5th anniversary with a series of activities for young and old alike.
Meeting with Alessandro Baricco (The Game. Seven things to know about the digital revolution and the world in which we live)
The Théâtre de Liège costume chest. Events for children (subject to reservation)
Closing with the show, Crooners
A kind of lost little ball, a musical of the cities for discouraged, disillusioned, but enthusiastic Crooners.  Outdoor karaoke for sad songs and for people with compulsive fits of giggles. A show by Nicolas Buysse, Jean-Michel Frère and Ditte van Brempt.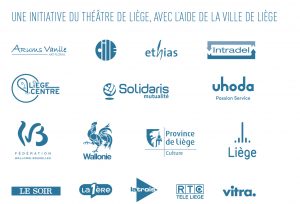 Practical
‹
September 2023
›
Mon
Tue
Wed
Thu
Fri
Sat
Sun
28
29
30
31
1
2
3
4
5
6
7
8
9
10
11
12
13
14
15
16
17
18
19
20
21
22
23
24
25
26
27
28
29
30
1
11:00

dimanche 09 septembre
Entrée libre

The Game

5 €
Book