AppHuman
SOPHIE LANGEVIN & IAN DE TOFFOLI
IMPACT 2020 becomes 100% DIGITAL!

FILMED SHOW - FREE

Access to the show will be available for free on this page from November 24 at 8 p.m.

Until midnight November 28.
Thanks to biotechnology, humans seem to be considered as machines, which can be manipulated and transformed. Thanks to nanotechnology, we can improve them, augment them and give them new power. Artificial Intelligence and Transhumanism are the new world orders and technology companies are the new masters. Humans are guinea pigs. Five actors, a screen, computers, sounds, dreams, utopias and resistances occupy the stage, for a dialogue about humanity.
As part of IMPACT



The IMPACT project is based 
on the cooperation of the cultural, 
research, business and training sectors.

more info
From 16 years old

CONCEPTION Sophie Langevin & Ian De Toffoli
MISE EN SCÈNE Sophie Langevin
TEXTE Ian De Toffoli
PRODUCTION Les Théâtres de la Ville de Luxembourg
Avec le soutien du Club des Entreprises Partenaires du Théâtre de Liège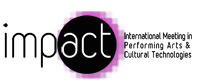 Practical
Théâtre de Liège en ligne
Plein tarif

20 €

65+/Carte prof/groupe10+

18 €

-30/Pro/Dem.d'emploi

11 €

-15/PlanC.U 7

7 €

Groupe scolaire

6 €

Etudiants Conservatoires Art de la parole/ULiège

5 €
Book