The Mountain
Agrupación Señor Serrano
De in Barcelona gevestigde Agrupación Señor Serrano manipuleert live video, modellen, miniaturen en drones rond de reproductie van de Everest. In een reconstructie van de tocht van bergbeklimmer George Mallory in 1924 en Orson Welles' hoorspel War of the Worlds uit 1938, staan leugens en nepnieuws centraal in deze nieuwe creatie waarin de ceremoniemeester Vladimir Poetin, de showman van de waarheid is. Hilarisch en verbijsterend.

INTERNATIONAL MEETING IN PERFORMING ARTS AND CREATIVE TECHNOLOGIES
Van 7 november tot 4 december 2021, de vijfde editie van het IMPACT-forum


Forum IMPACT wil uitwisselingen tussen de sectoren kunst, wetenschap en technologie bevorderen. In de loop der jaren heeft Forum IMPACT ons steeds weer verrast door ons onder te dompelen in de onvoorstelbare mogelijkheden die de toekomst biedt.
Deze vijfde editie wordt uitgevoerd door ST'ART SA met de steun van de beurs Rayonnement Wallonie, een initiatief van de Waalse Regering, en zal plaatsvinden in Luik en Hasselt met voorstellingen en optredens uit Frankrijk, Ierland, Spanje, Mexico, Nederland en natuurlijk ook België.
Mise en scène et dramaturgie Àlex Serrano, Pau Palacios, Ferran Dordal
Performance Anna Pérez Moya, Àlex Serrano, Pau Palacios, David Muñiz
Création Agrupación Señor Serrano
Production GREC Festival de Barcelona, Teatre Lliure, Centro de cultura contemporánea Condeduque, CSS Teatro Stabile di Innovazione del Friuli – Venezia Giulia, Teatro Stabile del Veneto – Teatro Nazionale, Zona K, Monty Kultuurfaktorij, Grand Theatre, Feikes Huis
Avec le soutien de Departament de Cultura de la Generalitat, Graner – Mercat de les Flors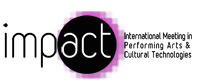 Praktisch
16:00

dimanche 07 novembre
Plein tarif

23 €

65ans+/Carte prof/Groupe10+

21 €

-30ans/Pro/Dem.d'emploi

11 €

Groupe scolaire

8 €

-15ans

7 €

Etudiants Conservatoires Art de la parole

5 €
Boeken